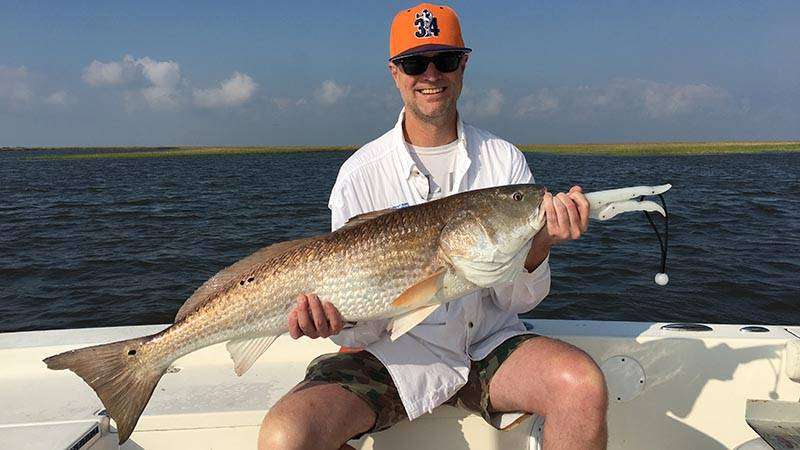 Last Updated on January 25, 2022 by Eric Bonneman
There's no better place than coastal Louisiana when the bite is on during their famous and seemingly, neverending redfish season.   Louisiana presents ample opportunities for fishing for redfish.  First, however, there are key concepts for anglers to consider as they search for big reds.
When is the Best Time to Catch Redfish in Louisiana?
Although redfish are always present in our area, some of the best times to embark on a redfish journey are in the fall.  Fish activity is high, and your chances of hooking up with reds are high during this time of year.  Things cool off literally and figuratively some during winter months, but reds can certainly still be caught, especially if you can locate warmer water.
Once spring hits, there is typically a significant resurgence of activity.  Springtime is usually the time of year when fishing is in full swing and usually produces the best results.  Summer continues to be a hot time of year for targeting reds, with consistent catch opportunities throughout the hotter months.
In sum, there's plenty of great fishing to be done in coastal Louisiana most of the year!

Where to Find Louisiana Redfish
In their quest for finding redfish in our area, anglers will soon see why the area is so well-known for fishing adventures.   There is, what feels like, an endless supply of fishing space, making this the gem of the gulf coast.
Outer islands and deeper areas near shore are excellent areas for reds.  If you prefer shallow water, you'll be in heaven on earth in this skinny water paradise full of miles of fishable marshland, bayous, and backwater areas.
Approaching our waterways as you plan your trip can be an overwhelming and daunting task for many fishermen.   It's important to target areas with the highest likelihood of success because fish tend to group up in certain spots for a good reason.
Focusing on ambush points can help to narrow things down.  Reds often set up on ambush points as they wait for bait to pass by.  Finding these spots is key to locating reds, so pay close attention to places that make logical sense for them to lie in wait for prey.

Final Word
The gulf coast of Louisiana is undoubtedly the premier destination for inshore redfish.  The habitat here is the perfect setting for redfish throughout most of the year, offering anglers an abundant supply of areas to target during their redfish excursion.   Life is good in Louisiana, and the fishing is GREAT!
Book your trip today to reserve your spot with Capt. Mark to take advantage of his years of experience and passion for putting people on fish.