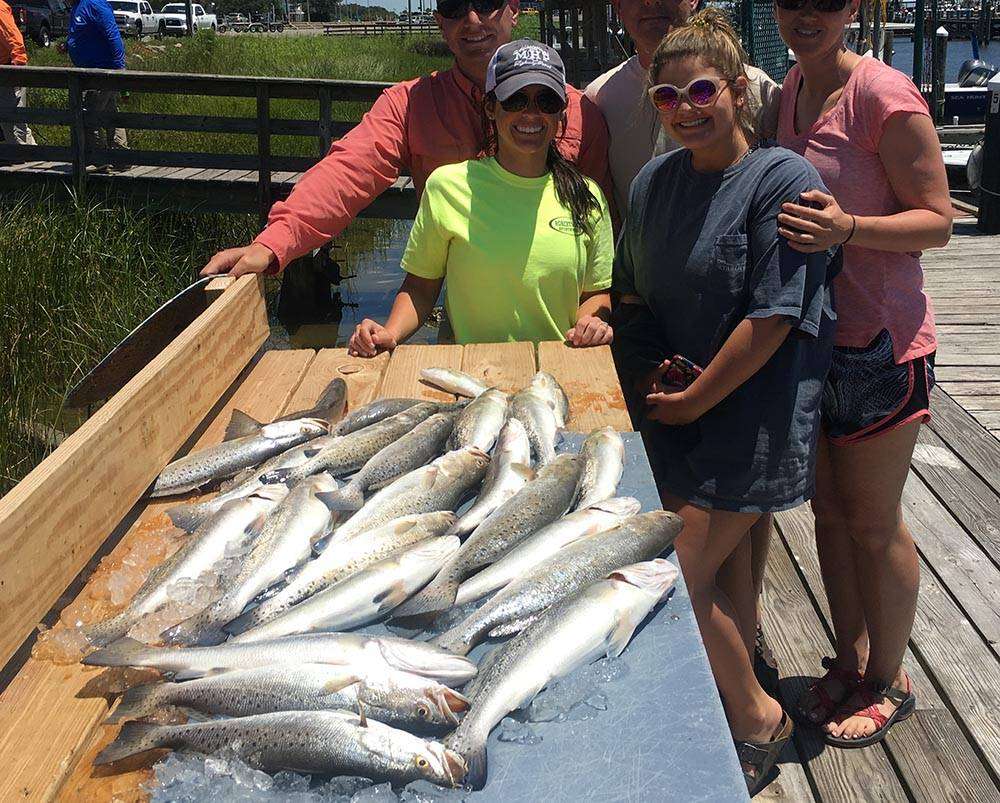 Last Updated on October 7, 2021 by Eric Bonneman
Our target species for this trip is the great tasting and hard fighting Speckled Trout. Today, I had Derek, Laura Grace, Krista, Jimmie and Shea aboard. We departed Pass Christian harbor shortly after the sun broke the horizon and headed south to the renowned Biloxi marsh.
Due to the brisk north wind that had blown most of the night before and now into the morning, most of our spots that we normally target had dirty water and were too rough to fish. So, we decided to run further south into the marsh than we normally do in an effort to find cleaner and calmer water. The weather report said that the wind should lay as the morning progressed, but that couldn't be further from the truth!  The wind remained a steady 16 mph with some gusts higher.
On our first stop, we found some birds that were actively feeding on shrimp that had been chased to the surface by some hungry fish. After several casts, we quickly determined that it would only produce gaff top catfish. We packed up and made another run further south in hopes of finding an oyster reef that was somewhat protected from the wind and choppy waters.
Once we arrived at the second location, we set up just out of the mouth of a cut on a marsh island that was protected from the wind. Several casts were made and soon the action began with numerous undersize trout being caught and released. After some time, the trout bite had stopped and only resulted in a handful of legal fish. We knew it was time for another run to a new location.
Third stop was the charm! We set up just off the leeward side of a marsh island and started our drift upwind of an oyster reef and immediately caught three very nice trout. The bite wasn't on fire, but every drift over this particular reef produced respectable size trout that were quickly sent to the fish box.
Hats off to these anglers that made it happen in spite of less than favorable conditions!
Our tackle today consisted of 7 foot medium-light action spinning rods paired with 3000 series reels that were spooled with 30lb test PowerPro braid. For our terminal tackle, we used Odd-Ball rattle corks with 2 foot of 20 pound test Segar fluorocarbon leader that was tied to a 1/4 ounce H&H chartreuse jig head and paired with Holey Joley colored Matrix Shad soft plastic baits.