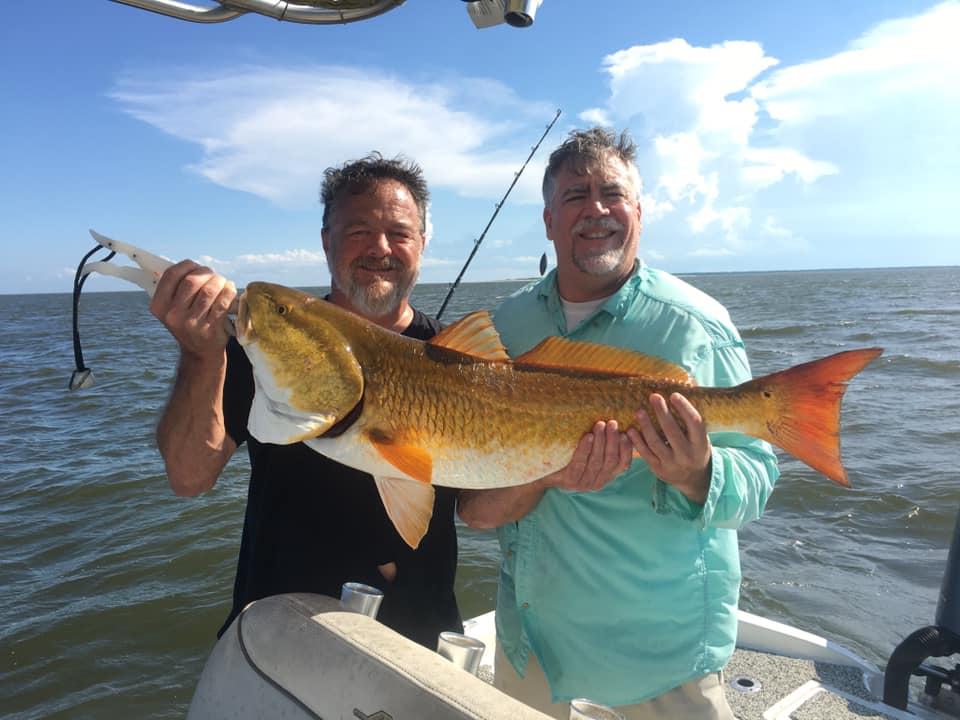 Last Updated on December 27, 2021 by Eric Bonneman
Stalking redfish in the salt marshes near Gulfport is an amazing fishing experience! There are many reasons why redfish are the number one game fish among the inshore fishery of the gulf coast. Once you have the opportunity to battle a healthy adult redfish, you too will understand their universal appeal.
About Marsh Redfish
Once they reach adulthood, redfish are one of the apex predators of the saltwater marsh. They often stealthily stalk the marsh looking for crustaceans, like blue crabs and shrimp, and small fish. Other times they lie in wait, behind oyster bars, points, or depressions in the bottom, waiting for unsuspecting bait to swim by.

Marsh Fishing For Reds
One of the best things about big marsh redfish is their tendency to hunt in very shallow water, often with their backs out of the water. When fish are this shallow they are most often feeding and will readily strike a lure presented in front of them, usually aggressively shooting through the shallow water to devour the lure.
Another classic redfish tactic is to root around in the bottom of the marsh with their beautiful tail waving around out of the water. This is called "tailing". Tailing fish are actively feeding, so when we find one or a school, once you get their attention by presenting a lure close to them, they will often eat it. When redfish are in the mood, they are aggressive feeders, and will hit lures and baits hard.

Fighting Redfish
Redfish are strong fish, putting up a great fight. Once they slam the lure, they will usually constantly pull away and towards the bottom until you get them to the boat. They are also very hardy fish. They can put up a strong fight, survive out of the water for a picture or two, and swim off strong to be caught another day. Redfish also grow relatively fast, so with proper management, healthy populations can be found in most coastal marshes.

For The Cooler
Lastly, they are excellent tasting fish with a lot of meat per fish! The meat is firm and mild, and typically has universal appeal. In Mississippi we are able to keep three redfish from 18-30 inches per person. A big mid slot red has enough meat to easily feed four people. The most popular redfish preparation is usually blackened with cajun seasoning or fried. Another classic preparation is redfish on the half shell, which is when it is cooked skin and scales down over indirect or medium low heat on a grill or campfire.

Fish The Marsh With Us
Book with us now to come experience what makes redfish so much fun! We know you will enjoy catching redfish as much as we do.