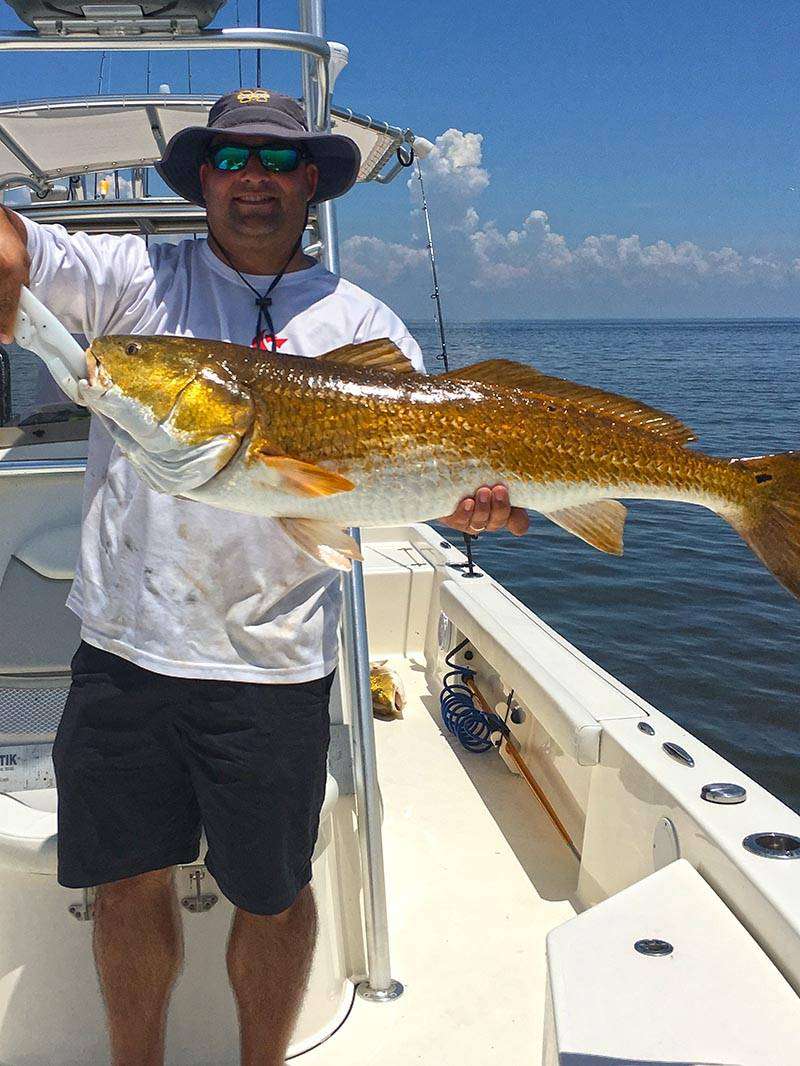 Last Updated on July 10, 2023 by Eric Bonneman
Vast expanses of crystal-clear waters, seemingly endless grasslands, and the bustling life that thrives beneath the surface. Welcome to the Biloxi Marsh, a true angler's paradise tucked into the southern edges of Louisiana. This thriving ecosystem is more than just a picturesque landscape, it's the stomping grounds for some of the most coveted inshore fish species known to man.
Your Game: Inshore Species of the Biloxi Marsh
When your line cuts through the serene waters of the Biloxi Marsh, you're likely to attract the attention of more than a few local inhabitants. The marsh is famed for its abundant population of spotted seatrout, a prize catch for many anglers. With their dazzling patterns and tenacious fight, these fish offer both a visual feast and a thrilling catch.
However, the seatrout are only the tip of the iceberg. Other inshore species you'll encounter include flounder, redfish, sheepshead, black drum, and the elusive tripletail. Each species brings a unique challenge and thrill, making every cast an adventure in and of itself.

The Adventure Awaits: What to Expect from the Charter
Stepping onto one of our inshore fishing charters, you'll find an environment that's as friendly as it is well-equipped. Our experienced guides are passionate anglers who know the Biloxi Marsh like the back of their hands. They'll navigate through the intertwining waterways, leading you to the most fertile fishing spots. Their insights and advice will be invaluable, especially if you're new to inshore fishing or the marsh itself.
Expect to be greeted with professional-grade fishing equipment designed for inshore pursuits. From rods and reels to lures and lines, you'll be armed with tools that maximize your chances of landing a prize catch. Of course, if you have favorite gear you'd like to bring along, feel free to do so!
The Day Out: What to Bring and How to Prepare
As enthralling as the Biloxi Marsh can be, it's crucial to come prepared for a day on the water. Comfortable clothing is a must. Be sure to wear something that protects you from the sun, which can be relentless, especially during summer months.
Don't forget your sunblock and hat, along with polarized sunglasses to help cut down on the water's glare. You might also want to pack some bug spray as a precaution, as marshes can sometimes be home to pesky insects.
While we'll provide a cooler for your catch, we recommend you bring along snacks and drinks to keep your energy up through the day. And last but not least, remember to pack your camera. The Biloxi Marsh is a place of breathtaking natural beauty, and you'll likely want to capture some of that magic to take home with you.

Legends of the Lower Marsh: Elevating Your Inshore Fishing Experience
At Legends of the Lower Marsh, we believe in delivering more than just a fishing trip. We strive to provide an unforgettable adventure that connects you with the raw beauty and exhilarating thrills of the Biloxi Marsh. Our seasoned guides, top-notch equipment, and deep respect for the marsh and its inhabitants, come together to ensure you enjoy a fishing experience unlike any other.
Whether you're a seasoned angler aiming for a record catch or a novice looking to dip your toes into the world of inshore fishing, we're ready to bring your dreams to life. And the magic of the Biloxi Marsh is just a booking away. So why wait?
Book your inshore fishing adventure with Legends of the Lower Marsh today and come face-to-face with the captivating beauty and thrill of the Biloxi Marsh. Make your own fishing legend and bring home more than just a fish tale. Dive headfirst into the adventure you've been longing for – book your trip today!