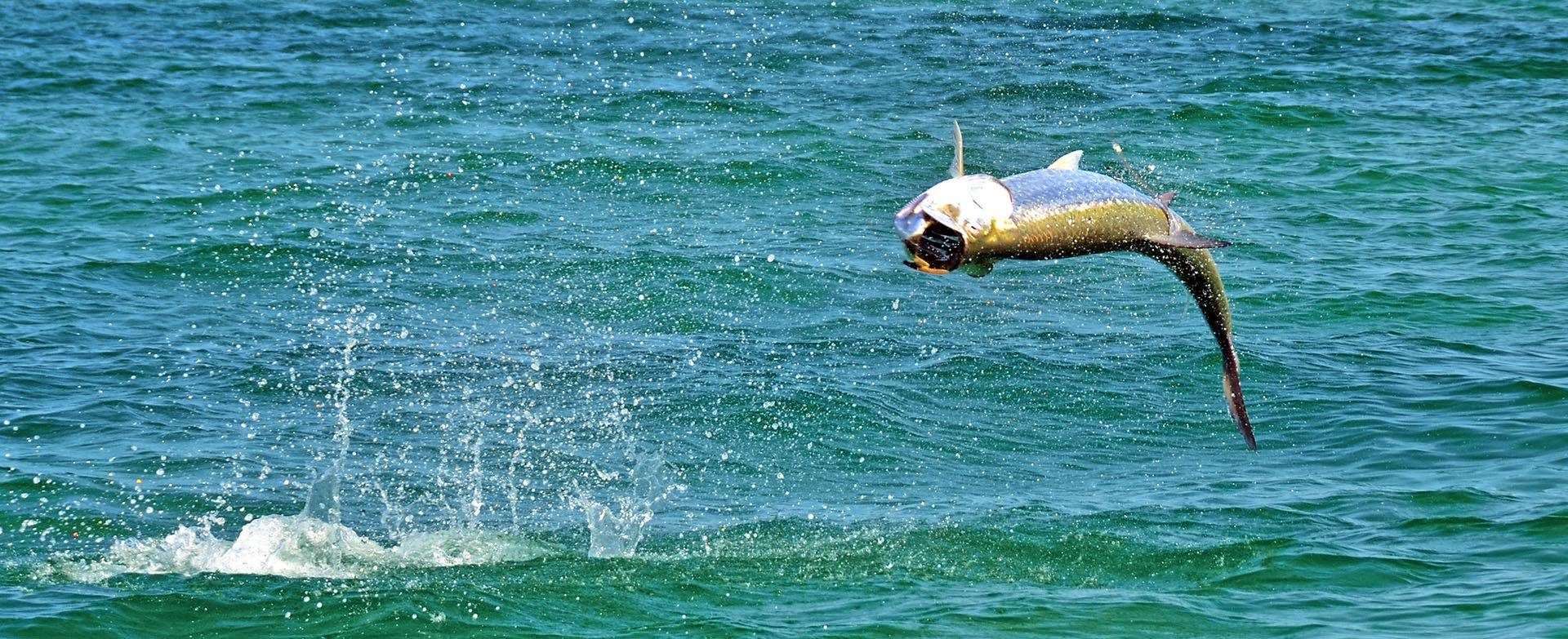 Last Updated on April 19, 2023 by Eric Bonneman
As mid-April arrives, anticipation builds among anglers who eagerly await the summer and fall seasons for tarpon fishing in Mississippi and Louisiana. These two states are hidden gems in the Gulf of Mexico, offering big tarpon fishing adventures with fish ranging from 50 to 185 pounds. In this article, we will explore the excitement of tarpon fishing in these two states and what makes this region a perfect destination for anglers seeking the ultimate tarpon experience.
The Tarpon of Mississippi and Louisiana
Mississippi and Louisiana waters are home to the majestic tarpon, known as the Silver King. These powerful fish, ranging from 50 to 185 pounds, are known for their acrobatic displays and hard-fought battles with anglers. As summer and fall approach, the tarpon migration brings them into the warm Gulf of Mexico waters, creating an ideal environment for anglers looking to test their skills against these incredible game fish.

The Thrill of Tarpon Fishing
Tarpon fishing is a unique and exhilarating experience that challenges even the most seasoned anglers. Known for their strength and endurance, tarpon provide a heart-pounding battle, often leaping from the water and making powerful runs to evade capture. The opportunity to target and reel in these massive fish is what draws anglers from around the world to the Gulf of Mexico each year.
Techniques and Tactics
Successful tarpon fishing requires a combination of skill, patience, and the right equipment. Anglers often employ various techniques such as sight casting, drift fishing, or anchoring and deploying live or artificial baits to entice the tarpon. The use of circle hooks, strong braided line, and heavy-duty spinning or conventional reels is essential to increase the chances of landing these powerful fish.

Prime Locations
Mississippi and Louisiana are renowned destinations for tarpon fishing, providing a wealth of prime locations across their expansive marshes and coastal waters. Whether in nearshore waters, shallow flats, river mouths, or passes, anglers can find a variety of fishing spots to explore. Each location offers unique challenges and rewards, making for a diverse and unforgettable fishing experience. With their professional attitude and expert guidance, seasoned fishing guides can show you where to cast your line and how to reel in the Silver King. So if you're a fishing enthusiast looking for your next adventure, head to Mississippi or Louisiana and discover the thrill of tarpon fishing in these fantastic locations.
Fish With Us!
Tarpon fishing in Mississippi and Louisiana promises an unparalleled angling adventure, with the Silver King providing a thrilling and memorable experience. As the summer and fall seasons approach, consider embarking on a tarpon charter fishing trip with Legends of the Lower Marsh. With expert guidance from Capt. Jeremy McHugh and his team, you'll have the opportunity to hone your skills, learn valuable techniques, and create unforgettable memories on the water. Don't wait any longer; book your trip today and experience the excitement of tarpon fishing in the Gulf of Mexico!