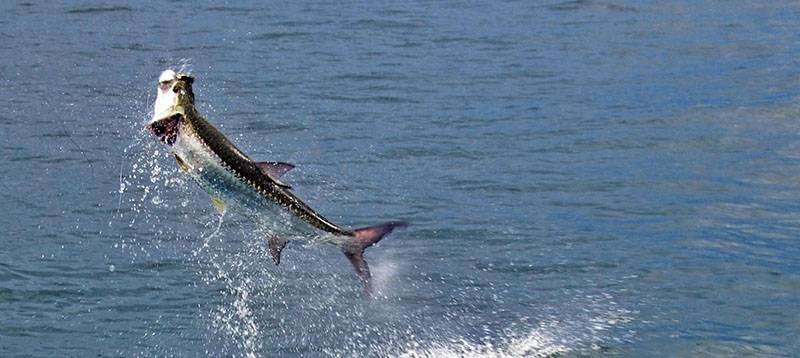 Last Updated on February 11, 2022 by Eric Bonneman
The diverse coastal fishery of Gulport, Ms, offers some of the best tarpon fishing in the world. The waters here are notable for inshore and backcountry fishing, making it an ideal destination to target tarpon.
Tarpon are at the top of any angler's mind for any inshore or nearshore fishing trip. They can grow to enormous sizes averaging 75-100 pounds, with some tipping the scales at up to a whopping 185 pounds in our area.
Some of the best times of the year to target tarpon off the coast of Mississippi are July and August, when water temperatures seem to be just right to trigger an influx of tarpon into Gulport area waters.
Tarpon, a.k.a. "Silver King," congregate in large schools during the summer months to feed on baitfish, making this time of year especially good for hooking up with good numbers of giant fish.
The tarpon in Mississippi thrive in the coastal habitat that our marsh areas offer. Often, you can identify and locate tarpon by keeping an eye out for these enormous fish "rolling" on the surface of the water, a tell-tale giveaway that you're in the right spot in your quest for tarpon. The first time you see one rolling, your heart will likely skip a beat at the sight of these majestic fish breaking the water's surface.
However, finding tarpon along the Mississippi Gulf Coast is only half of the battle. Catching them is another story.   For the best chances of catching fish, specific tools, tips, tricks, and strategies can put anglers in the best position for success.
Our lead tarpon trip guide is Jeremy McHugh, who understands how to find, hook and land big tarpon. He is world-renowned for his tarpon fishing accolades, including a guide trip that netted a state record catch (185 pounds). He's also part of a research team that tags and monitors the movement of tarpon via satellite observation.
We are proud to offer tarpon fishing trips in Gulfport, MS, that are second to none.    We love nothing more than putting our clients in the best position possible to have off-the-charts success catching tarpon in this amazing gulf coast fishery.
So get in touch with us to lock in your spot and put us to work for you so you can enjoy the most incredible fishing experience of your life!