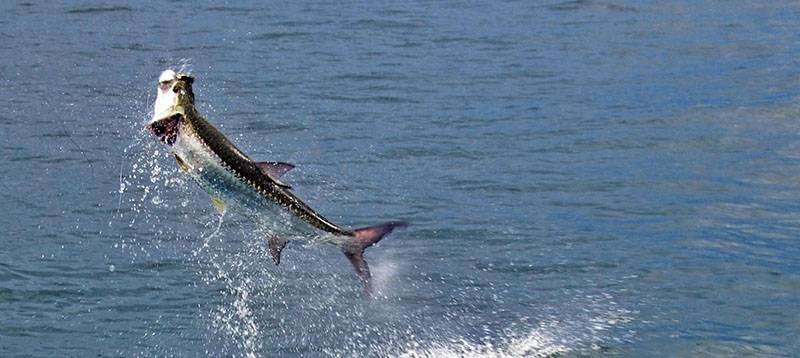 Last Updated on April 19, 2022 by Eric Bonneman
If you're looking for an adrenaline rush, Louisiana tarpon fishing is your activity. These large fish can reach up to 200 pounds, and putting a hook in one is no easy task. But if you're up for the challenge, it's worth it to experience the fight these fish put up.
So if you're looking for an incredible fishing adventure, be sure to check out tarpon fishing in Louisiana!
About Louisiana Tarpon
Tarpon can be found in the Gulf of Mexico and other coastal waters throughout the year, but the best time to fish for them is during summer. During this time, they migrate to Louisiana's coastal waters to spawn. The average size of tarpon is about 80 pounds, but they can grow up to 200 pounds or more.
Tarpon are known for their fight, and they're not an easy fish to catch. They're powerful swimmers and can jump out of the water, so it takes some skill and practice to land one. But if you're up for the challenge, it's worth it. There's nothing quite like the feeling of reeling in these big fish.
Tarpon Fishing
Louisiana tarpon fishing is an excellent way to get your adrenaline going. With a little bit of knowledge and preparation, you can have an excellent chance of catching a tarpon. The average size of a tarpon is around 80 pounds, but they have been known to get as large as 200 pounds. They are also known for their fight, so be sure you are prepared before you go out and try to catch one. You will need a boat that can handle their size, the correct tackle and bait, and most importantly, you need to find a good spot where they congregate.
If you're lucky enough to land a tarpon, take plenty of pictures before releasing it back into the water. There are a few reasons why it's essential to release tarpon healthy back into the water. For one, tarpon are an important part of the ecosystem, and releasing them healthy helps ensure that they can continue to play their role in the environment. Finally, releasing tarpon healthy allows more people to enjoy these fantastic fish for years to come.
Go Louisiana Tarpon Fishing
Welcome to Legends of the Lower Marsh, the hidden gem of Mississippi and Louisiana, for big Tarpon fishing adventures. Our professional guide Capt. Jeremy McHugh is dedicated to giving you the best fishing experience possible.
The Gulf of Mexico is home to fish of all sizes, but our specialty is giant Tarpon. These massive fish can weigh anywhere from 50lbs to 185lbs, and they are a true challenge to catch. We offer Tarpon fishing charters perfect for anglers of all levels, from beginners to experienced fishermen.
Whether you're looking for a fun day out on the water with friends or family or serious about landing a trophy fish, our Tarpon fishing charter is perfect for you. We'll provide all the gear and tackle you need and bait and lures. All you need to bring is a sense of adventure and a willingness to have a good time.
If you're ready to experience the thrill of a lifetime, book your charter today and get ready to explore Louisiana Tarpon Fishing with the Legends of the Lower Marsh.