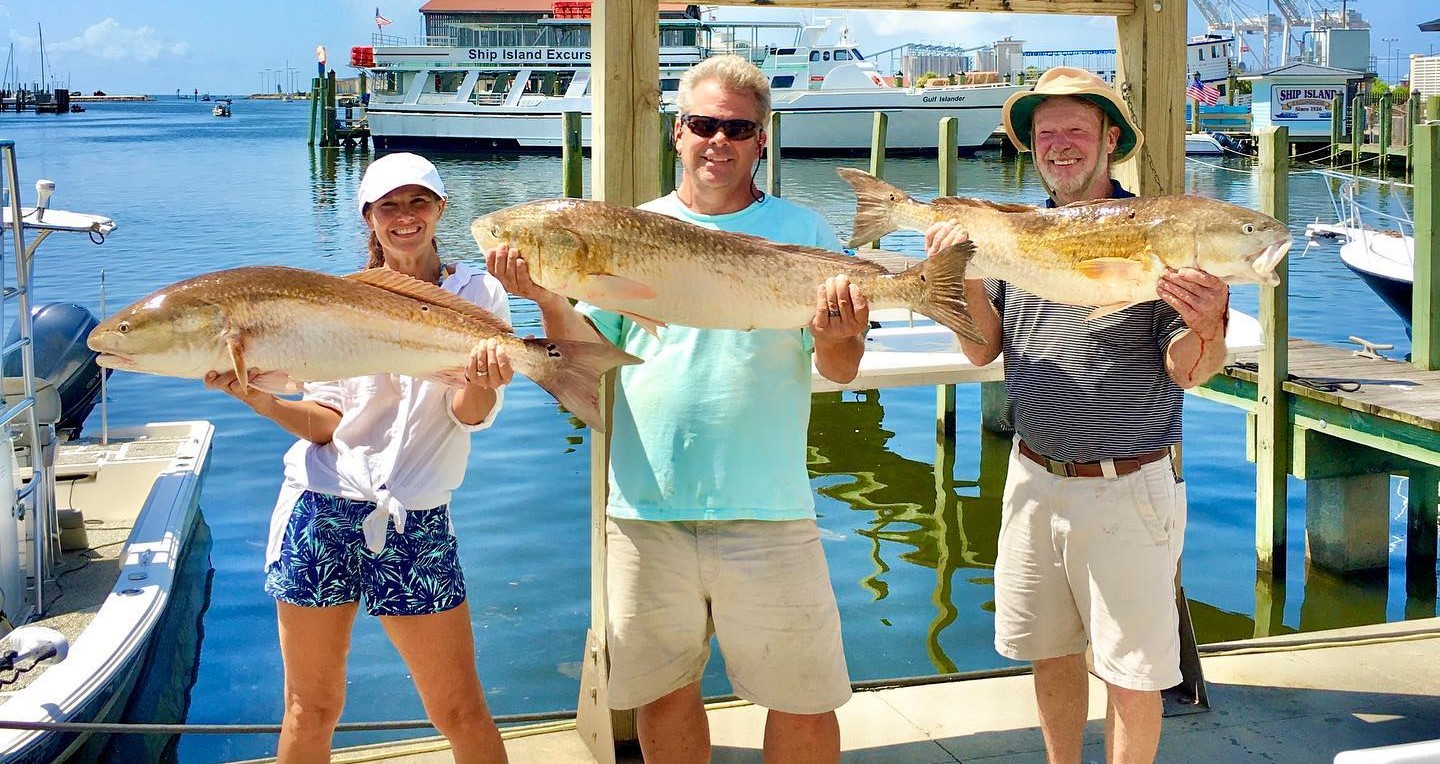 Last Updated on June 24, 2022 by Eric Bonneman
Planning a fishing charter in Gulfport, Mississippi offers anglers of all skill levels an opportunity to catch fish in the warm waters of the Gulf of Mexico.
First: Summertime Bull Reds
Big bull reds have already started showing up. And with the warmer water temperatures, they are often more active and aggressive, making for some great action on the water. Gulfport is also home to some of the best redfish guides in the business, so if you're looking to catch a big one, you're in good hands.
Weather
If you're planning a fishing charter in Gulfport, Mississippi in July, you'll need to be aware of the weather conditions. The average high temperature during the daytime is around 90 degrees Fahrenheit, so it's important to dress appropriately and stay hydrated.
July is also the month with the highest average rainfall, so you'll need to be prepared for wet weather. However, the rain can also provide relief from the heat and create ideal conditions for fishing. So whatever the weather brings, if you're prepared and have a positive attitude, you can still have a great time on your charter.

Eye Protection
When the sun is beating down and the water is reflecting its rays, it can be hard to keep your eyes open, let alone see your lure. That's why a good pair of sunglasses is essential for summertime fishing.
Not only do they help to protect your eyes from the harsh sun, but they also improve your visibility, making it easier to spot fish in the water. In addition, sunglasses can help to reduce glare, making it easier to see into the water when you're casting your line.
What Can You Catch?
If you're looking to catch some fish in coastal Mississippi in July, you're in luck. There are a variety of different types of fish that can be found in the area at this time of year. Among the most popular are redfish, speckled trout, and flounder.
Redfish are one of the most popular fish to catch in coastal Mississippi. They tend to be found nearshore and inshore, and they can be caught using a variety of different methods. Redfish typically range in size from two to five pounds, though larger fish are not uncommon in July.
Speckled seatrout are another popular type of fish to catch in coastal Mississippi. They're often found near oyster beds and in other areas with good bottom structure. Speckled trout typically range in size from one to three pounds, though larger fish are occasionally caught.
Flounder are a flatfish that is found in coastal waters around the world. In Mississippi, they can be found inshore and nearshore throughout the year. Flounder typically range in size from one to three pounds..
Coastal Mississippi is a mecca for shark fishing in July. The area is home to a variety of species, including bull, tiger, and hammerhead sharks. Be prepared for a fight, as sharks are powerful swimmers that will put up a vigorous battle when hooked.

Trip Preparation
Fishing is a great way to relax and enjoy the outdoors, but it's important to plan ahead before booking a fishing charter.
Here are a few things to keep in mind:
Choose the dates and times that work best for you and your group. Most charters operate on a first-come, first-served basis, so it's important to book early.
Decide how many people will be joining you on the charter. Most boats have a maximum capacity of six people, so keep that in mind when making your reservation.
Be sure to ask about what type of equipment is provided by the charter. Many businesses provide all the necessary gear, but it's always good to double-check before your trip.
By following these simple tips, you can ensure that your fishing charter is a success.
Let's Fish
If you're looking to get the most out of your July fishing experience, then definitely consider us at Legends of the Lower Marsh Fishing Charters. We know the ins and outs of the best spots to fish in the area, and we always put our clients first.
Give us a call or book your trip today and let us show you why we're the best fishing charter in town.
We guarantee you won't be disappointed.