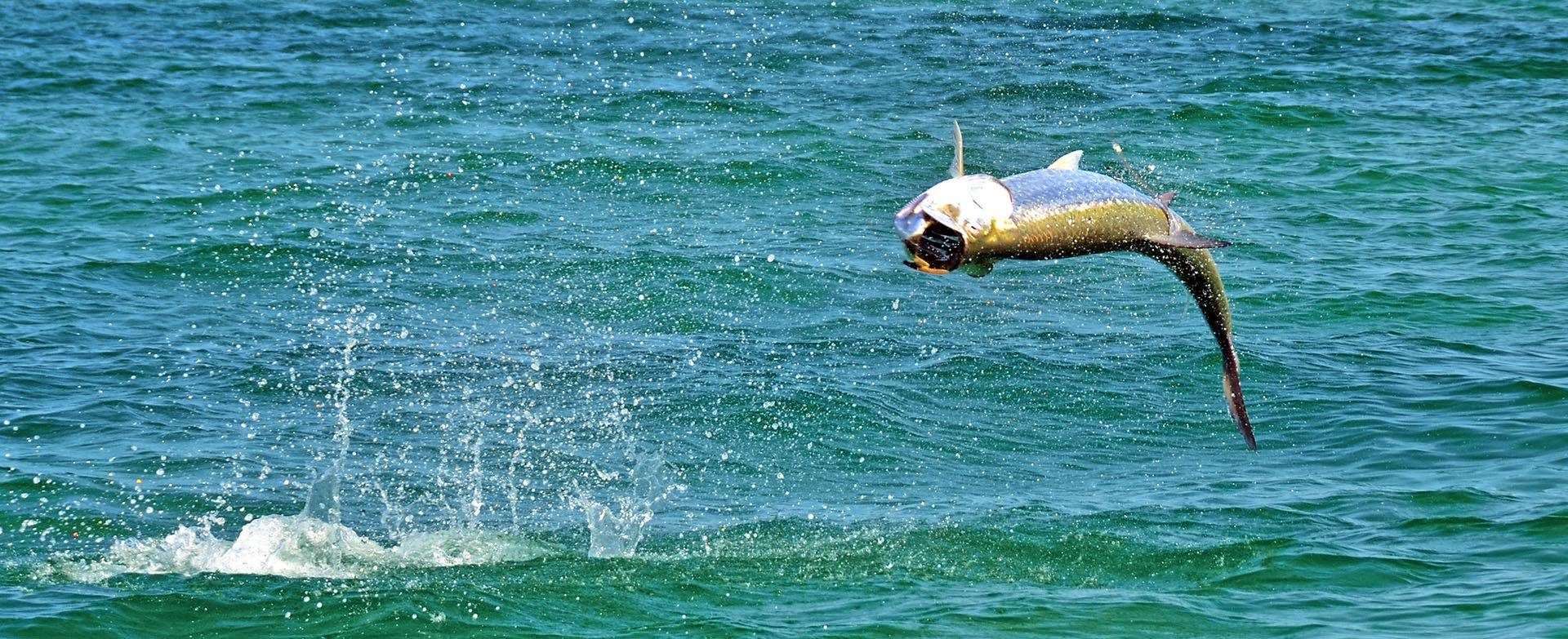 Last Updated on August 13, 2021 by Eric Bonneman
In Louisianna, during the months of  July, August, and September, Tarpon migrate into the area along the coast, usually concentrating around the Venice area. In the mix of this migration are tarpon that can weigh in excess of 200lbs.
What Brings Tarpon To Louisiana?
Easily considered one of the top tarpon fishing destinations, Louisianna draws in this migratory species of tarpon every summer. The reasons for this concentration are due to tarpon following specific water temps (they migrate north from the south in the summer), they follow schools of baitfish to stay fed, they are headed out to migrate, and they love coastal waters that are both protected and river fed.
The Venice area is just such an area where all of these conditions meet during this time of year.
Surrounding Areas To Target Tarpon
When you think about the needs of tarpon, you will find that it is not just Venice, LA that draws this species inshore. To the east, Mobile, Alabama has a very similar ecology that lies not very far away. In the middle, Gulfport, MS is in such a position to be center of both of these destinations. This is the area we concentrate our fishing charters in and get our fair share of local tarpon as well.
If you study a map of this stretch, you will see a row of barrier islands that connect all three fisheries together. Since schools of baitfish are always looking for protection, tarpon follows along this same path in these inshore protected fisheries.

Fishing Methods For Tarpon
Tarpon require fairly heavyweight fishing gear. Not only are these fish massive, but they are aggressive and acrobatic fighting fish known for hard-charging runs. These fish will test your arms and the gear in between. It is usually a fairly stout spin fishing setup that is utilized. Though, this part of the world is also a premier destination for fly fishermen looking to land a tarpon (10-12wt setups are used).
Tarpon are regularly targeted utilizing a broad spectrum of methods. These include:
Live Bait
Suspending Twitch Lures
Topwater Lures
Flies
Wreck Fishing
Sight Fishing
I have even hooked a 155lb tarpon on a small bonefish slider jig – it really comes down to opportunity and your presentation in that scenario.
Reserve A Tarpon Fishing Charter
This is a fairly short season compared to some of the other popular options in the area. In this, it is best to reserve early for a tarpon fishing charter. While targeting tarpon, fishing charter clients can also find themselves battling Jack's, sharks, cobia, and bull redfish. It is truly an exciting time to hit the water.
You can find rates here
Start the booking process here
Or. call the Captain directly for any questions: 228-324-7612