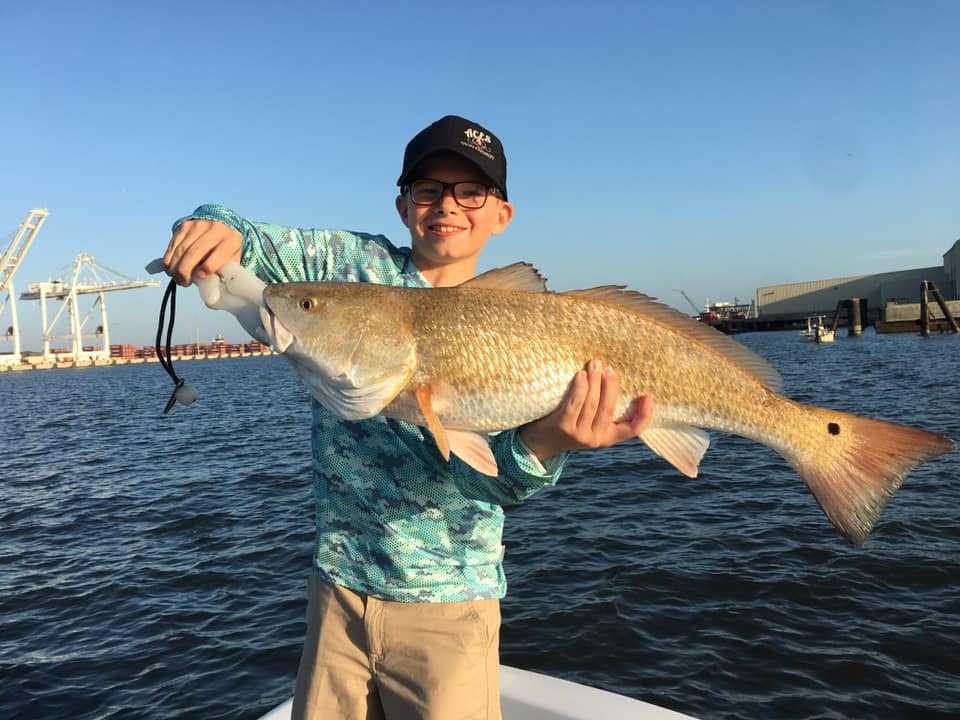 Last Updated on October 7, 2021 by Eric Bonneman
With July behind us and August in full swing, we take a look at what our clients have been catching and what more to expect through the month. Big redfish, jack's, Spanish mackerel, and more.
Big Fighting Fish
August is the time of year for epic inshore battles. We have been hooking into big redfish on a near-daily basis. This species hits hard and plows deep – making for an exciting and taste target for our clients.
At the same time we have been hooking in to and landing monster Jack Crevalle. Though for table fare this species may tale some finagling to make a good meal, the battle at the end of the line is second to none. These are a big, angry species known for literally attacking bait and then taking the angler along for a ride he won't soon forget.

Alongside these guys, keeper-size bay sharks have also made it on the catch list for August. While these may be smaller in size when compared to their adult counterparts, make no mistake that it will take some doing to land these inshore missiles.
Cooler Filling
If you're looking to fill the cooler, or freezer, August is a great harvest month in Gulfport.
Redfish have been an inshore favorite of the area for decades. The ways to cook reds are usually up to the persons' individual taste, but blackened redfish is and will continue to be my favorite.
Alongside redfish, Spanish mackerel have made the board as well. While this species can be cooked in a multitude of ways, this is my personal favorite fish taco species – these flavors go hand in hand.
The great thing about sharks at the bottom-end of the keeper size spectrum is the fact that this is the best time to eat them. As sharks grow bigger, due to how they process waste, the flavor gets more and more "sharkey" < if that's a word. But, in these smaller sizes, you will have the pleasure of eating some clean fresh shark meat in a way that will not disappoint. If you are lacking in experience with cooking sharks, look up any of the popular and simple baked shark recipes to get started.

The Rest Of The Month
While we have singled out redfish, jack crevalle, Spanish mackerel's, and shark in this article – August has a few more inshore species that you will be able to target. These include the ever-popular seatrout, as well as,  snapper, tripletail, and even tarpon.
Plan A Trip
This is a busy time of year for charter fishing guides in the Gulfport area. It is best to plan early, but even last-minute trips can be figured out. To get started you can hop on over to the RATES PAGE for current pricing, trip types, and then head over to the book button to get the process started. If you have questions you can contact the Captain directly here, or email at lowermarshlegends@hughes.net, or call at 228-324-7612.