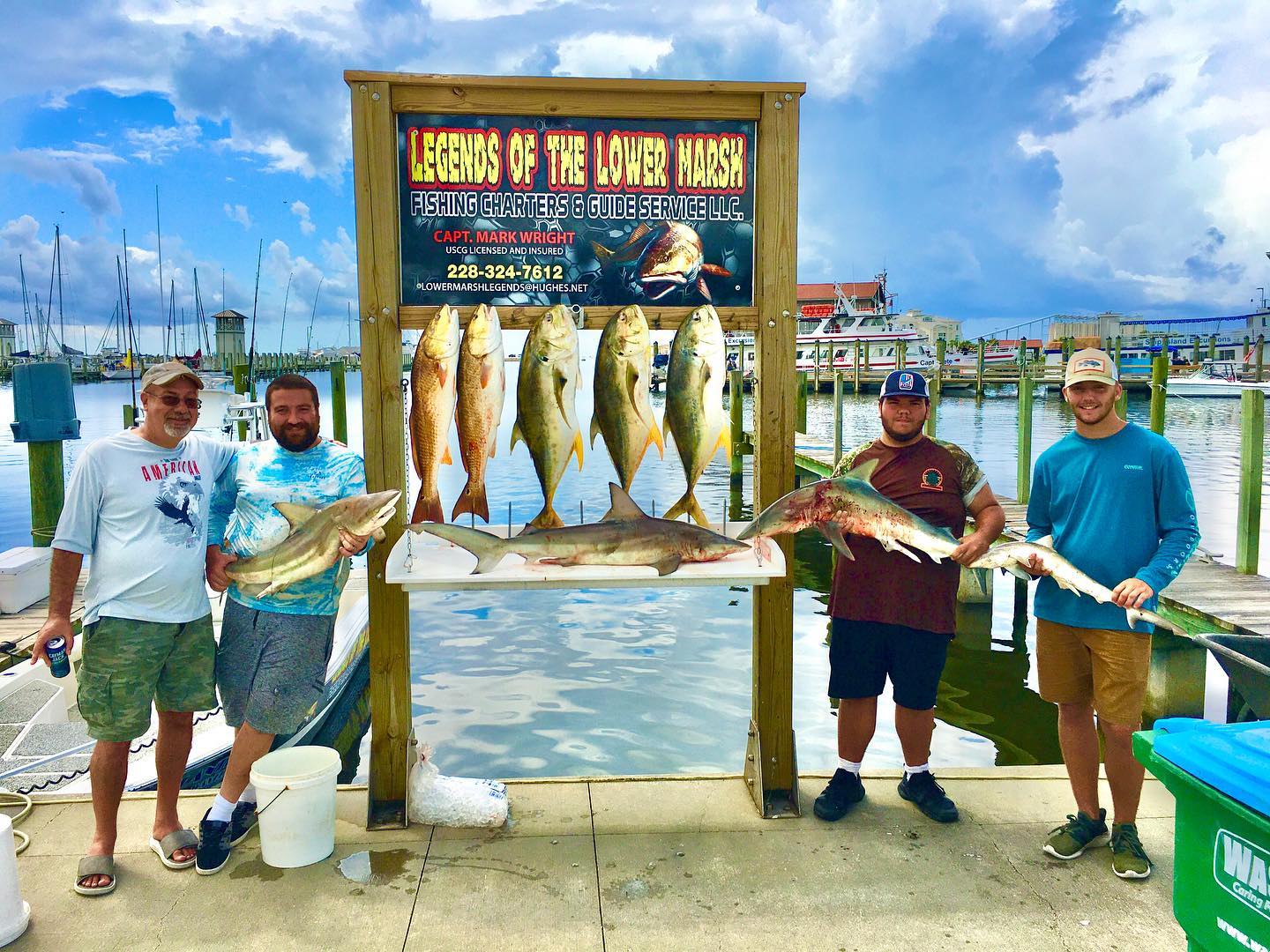 Last Updated on August 1, 2022 by Eric Bonneman
The Gulf Coast of Mississippi is the place for hot fishing action. The Gulf is a vast and bountiful place filled with a wide array of saltwater fish. However, of all the species that call the Gulf home, none are more fun to catch than bull redfish, colossal jack crevalle, and sharks.
Big Fish, Epic Battles
Now is the season for saltwater adventure on the Mississippi Gulf Coast. The bite is on for bull reds, jack crevalle, and sharks, all ferocious fighters ready to battle.

Bull Redfish
Gulf Coast Mississippi is a prime location for bull reds. They can grow to be up to fifty inches long and weigh between 35 and 45 pounds. These massive fish are a significant challenge for even the most experienced anglers. If you're targeting bull reds, use heavy-duty tackle that can handle their size and strength.
Also, prepare for a shallow water showdown. Inshore anglers have the chance of a lifetime to hook up with some of the biggest redfish in the country here in coastal Mississippi and Louisiana waters. This time of year, large numbers of bull reds invade skinny water habitats.
Big Jack's
Jack crevalle is another popular target in our shallow waters. These hard-fighting fish are known for their powerful runs and acrobatic jumps. They can grow to be over 50 pounds, so you'll need heavy tackle to stand a chance against the fighting spirit of these feisty fish. Jack crevalle are aggressive predators willing to eat various baits and lures. They are a popular target for anglers due to their size and abundance on the Mississippi gulf coast.

Shark Fishing
Lastly, sharks are a popular catch on the Gulf Coast. These apex predators roam the shallows in search of their next meal. Shark fishing is a thrill seeker's dream outdoor activity with plenty of adrenaline-filled action. If you're in the right place at the right time, you'll have an opportunity to hook up with the king of the ocean right here in our backyard.
Get in on the Action!
Capt. Mark Wright is a fishing guide with over 40 years of fishing experience. He is a Mississippi Gulf Coast expert. He knows where to find the fish, and he'll make sure you have a great time while you're out there.
Whether a beginner or an experienced fisherman, Captain Mark will take you to the best spots and help you land a fish of a lifetime.
See what the Mississippi Gulf Coast offers – book your trip today!