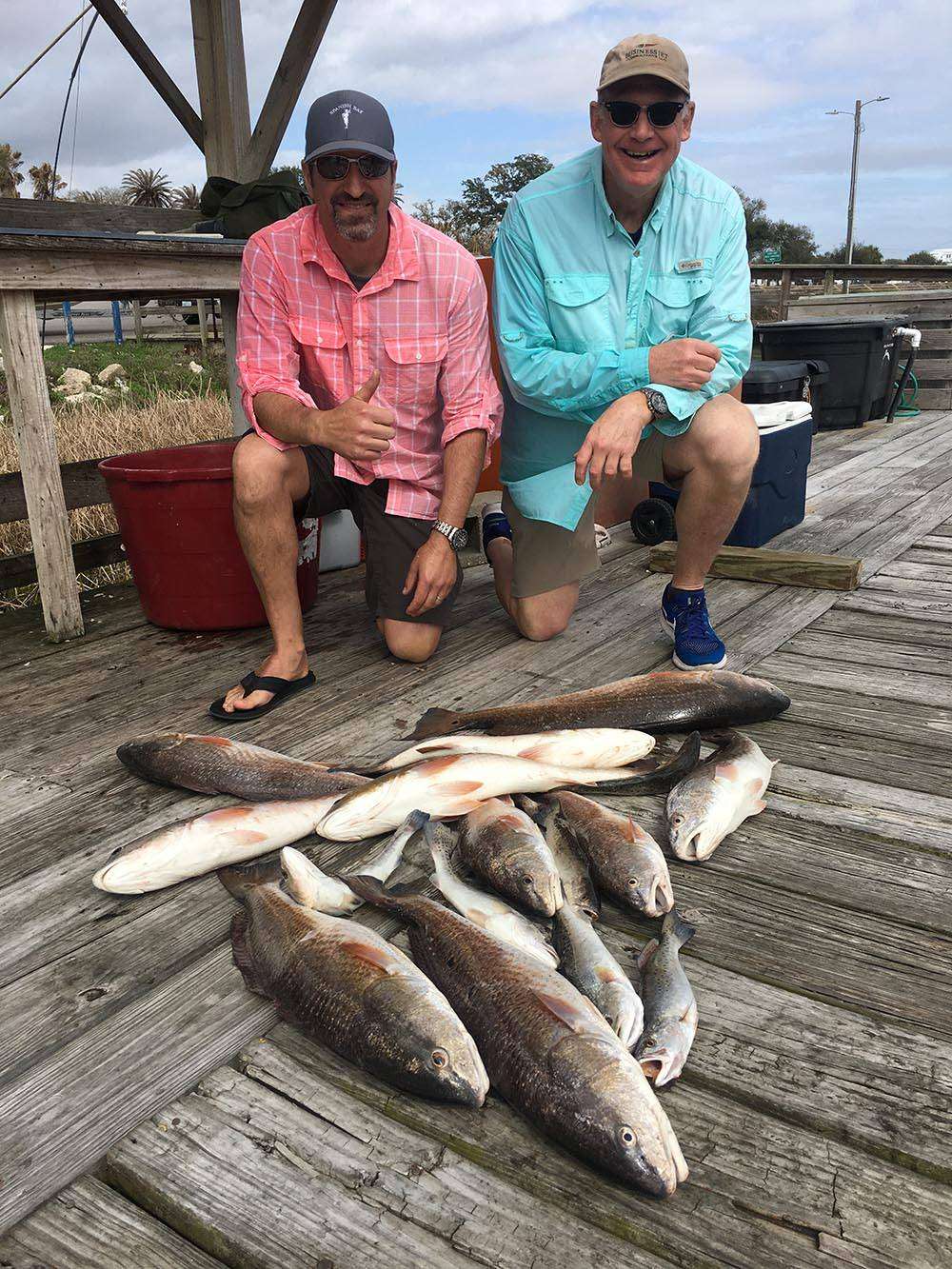 Last Updated on October 7, 2021 by Eric Bonneman
Today, I had Ricky and Jason aboard and they were eager to get in on the hot fishing action that the Biloxi Marsh reliably provides.
We made a run down to one of the numerous oyster reef's that are located in 5 to 8 foot of water. Our tackle for this stop consisted of ultraviolet matrix shad tied to a 24-inch fluorocarbon leader that was then tied to an oddball rattle cork.
The guys made several casts, then began to hook up with some nice early-season Speckled Trout. Unfortunately, as fast as the trout bite started, it then stopped, so it was time to move. We ended up bouncing around to the other nearby oyster reefs for few hours and managed to pick up a few more fish for the box.
We had about an hour left in the trip and the trout had thrown in the towel, so I asked the guys if they wanted to switch gears and look for some redfish up along shallow flats, cuts and bayous within the marsh. Ricky and Jason gave their overwhelming approval and thumbs up at the suggestion.
Our tackle for Redfish was a 3/4 oz. H&H weedless gold spoon with a swivel that was tied directly to 30 lb. moss green PowerPro braided fishing line.
We tried a couple of spots that I knew redfish usually patrol, but after trolling and casting to many points and bayou mouths, we were unable to locate any willing participants.
So, with our backs up against the wall and time running out, I told the guys, "let's swing for the fence!" I have an old reliable tournament spot for redfish that I hadn't been to in some time and it was only a short distance from where we were. With the little bit of time we had left, we packed up quickly and made a short ride to the redfish honey hole! We arrived at the spot and as the boat was still coasting forward, Ricky made a cast and was instantly hooked up with a 25 inch beautiful and hard fighting Redfish! After netting Ricky's perfect fish, the action didn't stop! The guys continued to catch eight more perfect slot size Redfish!
We finished the day with numerous Speckled Trout and 9 hard fighting and great tasting slot Redfish in the box for the ride back to the dock! All in all, not too bad of a finish for a relatively tough late winter day!